Guitar Software
Chordpulse
Firstly I want to say that I'm not receiving any commision for promoting this.
I just think it's a good and useful product and I love playing around with it.

The software developer is is a guy called Laszlo Oroszi in Hungary
.
I use it for improvising practice around scales and chord sequences. Although you get a fully functioning 14 day trial, it's worth paying the small asking price. I bought it without hesitation.
What I like most is that it's really easy to use. Just choose your "Session" (chord sequence) like Slow rock, Ballad, Polka or whatever. Then you can play this sequence in a variety of interesting styles. I never get bored.
Also check out the totally free software called "4 chord songs" in the tools section. This is basically a lite version of Chordpulse. It looks and works exactly the same.
There is also a YouTube demo video.
The following text is lifted straight from the Chordpulse website.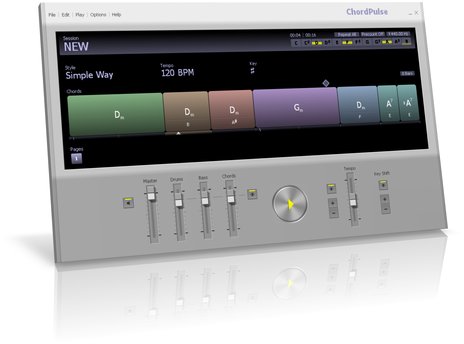 ChordPulse is a backing band and a musical sketchpad
to practice, improvise and compose in a new way...
- 132 music styles at your fingertips
- Easy, fast, polished user interface
- Really enjoyable practicing
- Unlimited inspiration for songwriting
- Unlimited fuel for improvisations
- Technical support

ChordPulse is a handy backing band software for music practice, inspiration, improvisation, and pure fun with music. Play and sing along with ChordPulse. Use it as a full accompaniment, a drum machine with bass, a metronome with chords, and more.
A software for practicing
Improve as an instrument player or singer while having fun. Choose a simple chord progression, click a music style, and just start playing. Be motivated by custom backing tracks.

A software for songwriting
Experiment with musical ideas quickly and easily. Click to turn a pop song to reggae, a rock ballad to swing, change chords, tempo, and song key in no time.

Improvisations
Test your fantasy by playing along with different music styles and chord progressions. Be creative with your own backing tracks.

Fun
Play or sing along for your own enjoyment. Relax with a delicate ballad, recharge with some blues, or raise your pulse with rock & roll.